James Coffman, long time former student and member of Sound Sailing Center, captained his Hanse 375 (which is the same hull as the VAr 37), with Martin van Breems (founder and owner of SSC) in the afterguard. Jim Boyle, a long time SSC instructor and professor of Oceanography was the navigator.
We initially planned a route through the islands, based on a light wind forecast, but by the start, the winds were strong enough to ignore the tides and head straight down the sound from the start of Stamford with winds out of the SE. Within a few hours the winds backed to the South, and we popped the chute, allowing us to put some distance between our competitors with winds over 18 knots and boat speeds over 10 knots. Unfortunately, the 3/4 oz kite blew out after a roundup, but we still had gained some good distance. Then, the wind totally died, and we were left flopping around the sound.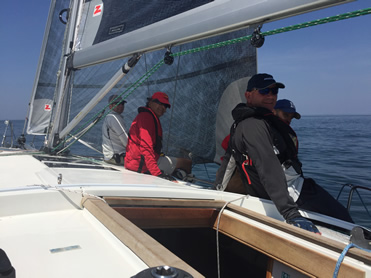 Even worse, the boats close in to shore were moving! We went into wind seeker mode (which the self tacking jib is great for), and managed to get the boat moving. To our great relief, we soon got some wind, and the boats more inshore were dead. Within Martin's 2 hour watch, there were 6 sail changes!
As we approached Plum Gut well after dark, James decided to hoist our 2nd kite, and again started making tracks through the night all the way to the north end of Block Island. We sailed through a thunderstorm, and dropped the kite just a minute before we rounded the bouy. Then we started the upwind passage With winds in the 17-19 knot range we were double reefed. They dropped a little as we rounded the southern end of Block, just as dawn broke. We soon realized we had put a considerable distance between us and all the other boats in our class. Continue Reading →