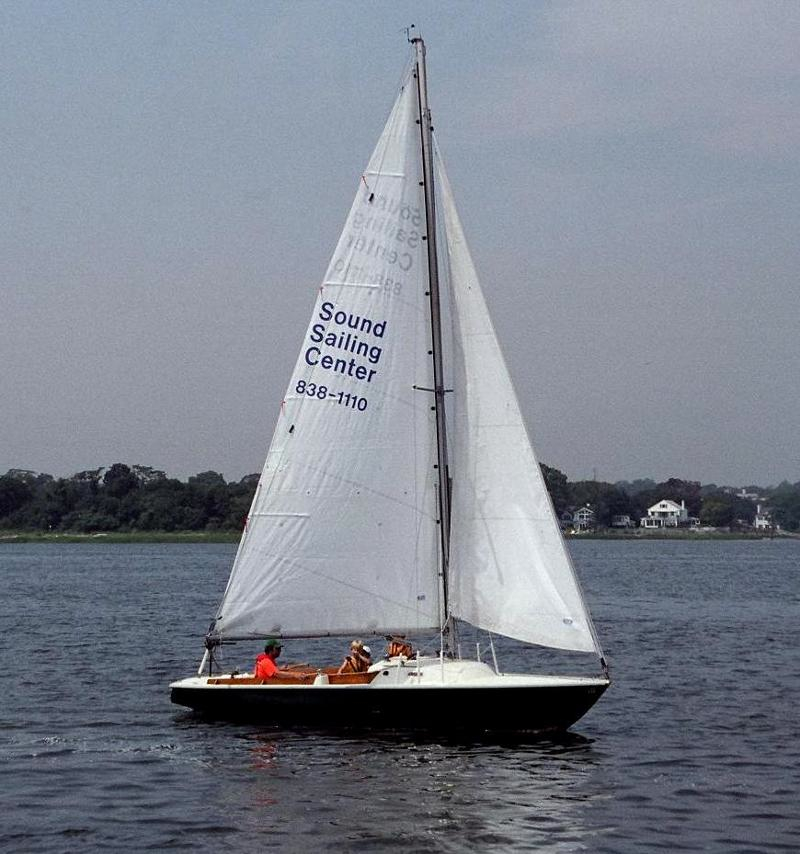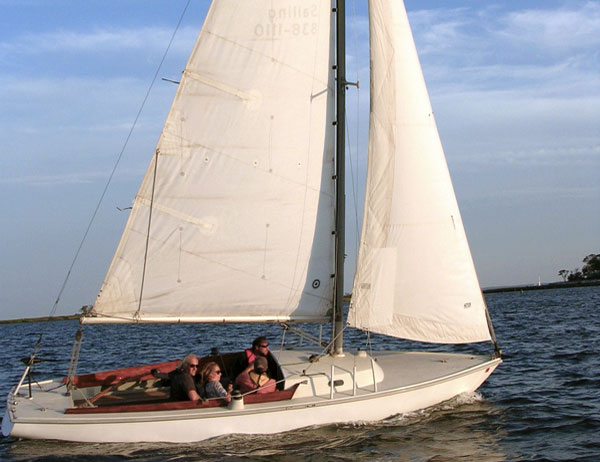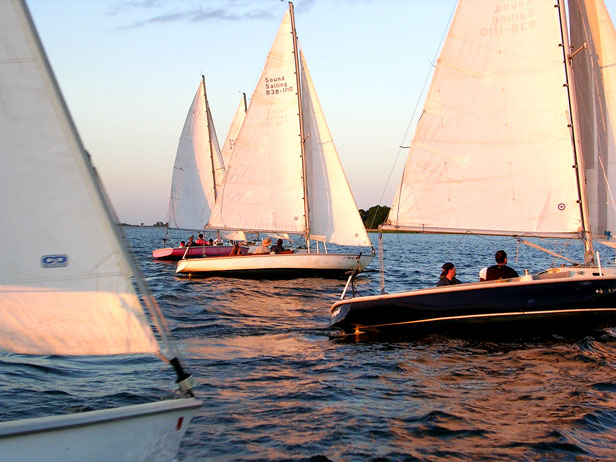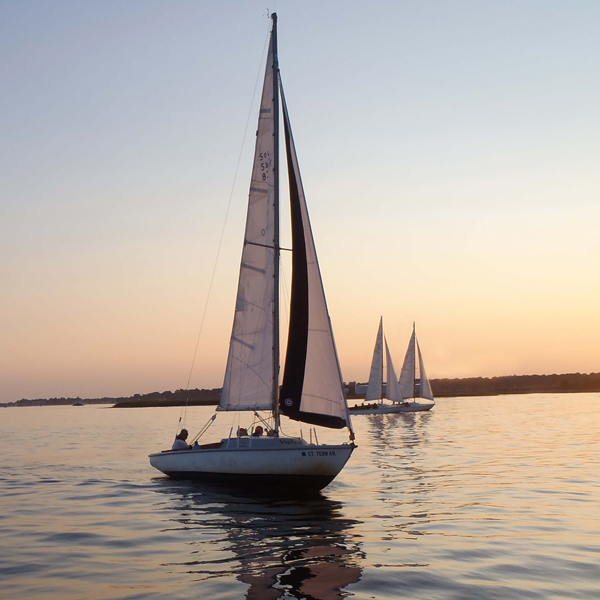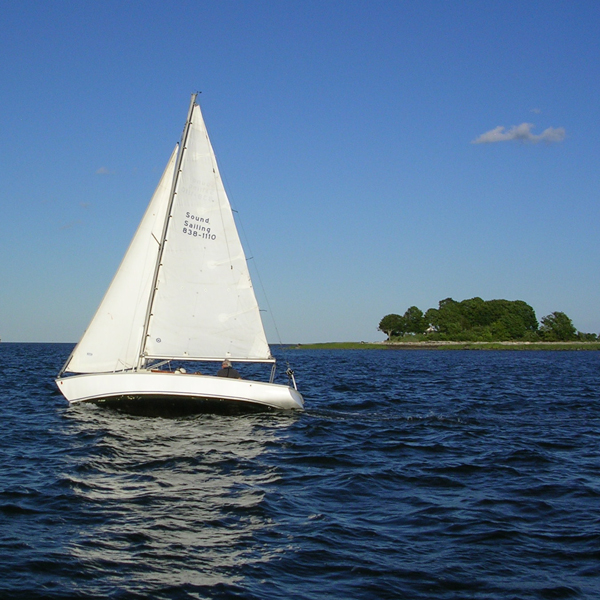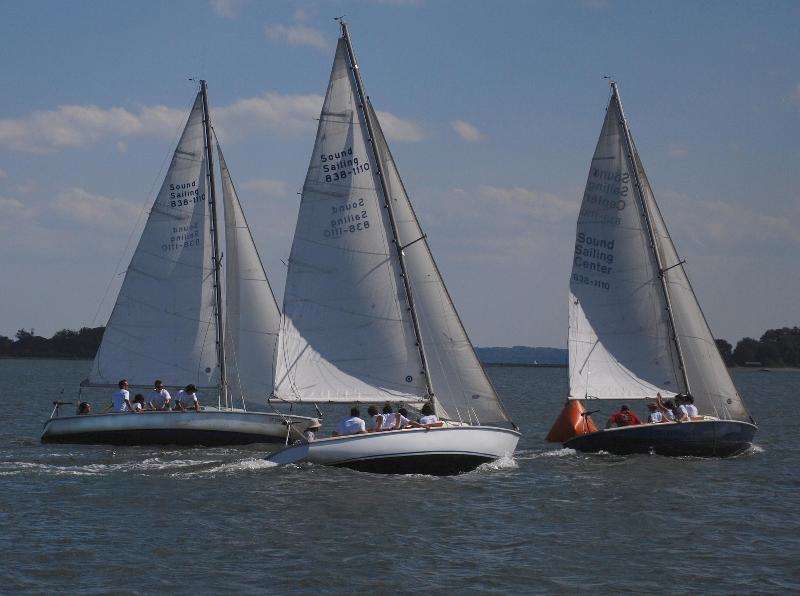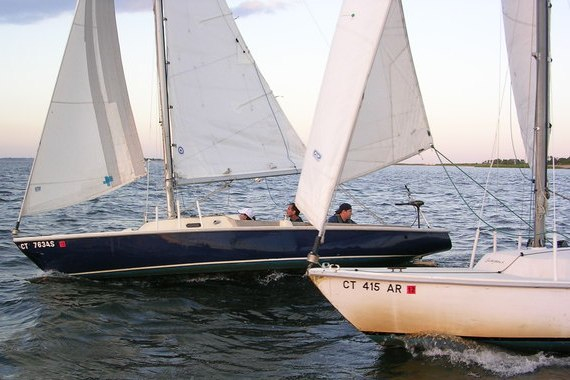 Our primary daysailers are Pearson Ensigns, a strong , unsinkable fiberglass boat that is still actively raced (and still being built) more than 30 years after her introduction. Ensigns are probably the most comfortable daysailer ever built. They have high backrests and a large, deep cockpit. The Ensigns are ideal for families or relaxing picnic cruises. Their cockpits are larger than even our J44. Just as important for us is that Ensigns, with our unique modifications, are the easiest daysailers to singlehand that we know of. We have many members in their 60s to 70s, men and women, and they love being able to easily singlehand our boats.
Daysailer (Ensigns)
2 Hour Charter $288
4 Hour Charter $461
Hourly Daysailer Charters
$175/hr includes instructor/captain and boat for 1 hour. No checkout required.
To book or inquire about an Ensign Daysailer charter, please email us at sscsailing@gmail.com or call 203.838.1110.
Hourly Charter Vs. Party Boat
Going out on a large party boat is more like a Cruise Ship Experience versus sailing on our 23′ Ensigns. Our Ensigns can provide a more active and involving experience.
We can accommodate almost any situation. Here are some of the advantages of our program;
Higher Quality Group Interaction
Breaking everyone into smaller groups often allows for higher quality interactions than milling about on the deck of a larger boat. The cockpit of the Ensign is very conducive to great conversations.
Opportunities to Learn Sailing Skills
Everyone gets a chance to steer the Ensign, and there are better opportunities to learn about sailing if someone wants. Often people like it so much that they take lessons with us (we are the largest adult sailing program in CT), and develop a new lifelong passion.
Of course, participants can just relax and observe. You are closer to the water, and much more involved with the process. Even if someone does not want to learn how to sail, being able to touch the water and be in touch with the environment, as opposed to being isolated from it, has its own reward.
Bird Watching Opportunities
Bird watching is excellent as we are often sailing less than 100′ from the islands. Note that the Norwalk Islands are primarily a nature sanctuary, and thus undeveloped.
Because we primarily sail inside the islands, there is very little wave action and we have never had someone get seasick in any of our classes or corporate events.
We sail by several beaches, so swimming is definitely an option.
Each boat can be equipped with a cooler filled with snacks and whatever beverages you wish.
Tie up to our Larger Boats
In some cases, we also bring one of our larger boats as a "Mother-ship", which is anchored at our 'destination', typically by a beach. This provides an enclosed head for bathroom access and also allows us to switch around the groups. The Ensigns then raft up to the "Mother-ship".
We suggest you start with a relaxing cruise thru the Norwalk Islands. We can sail for about an hour, stop and switch groups around and swim to a beach if desired, then head back. The nicest beach is a private island off Darien near Zieglers Cove, but there are several good options in the area.
After we sail back, there is the option for everyone to get together for drinks or dinner afterwards at the Sunset Grill. It's located at the head of our docks. This always makes for an afternoon with something for everyone, and that everyone will greatly enjoy.
Teak & Mahogany Comfort
The warm teak or varnished mahogany woodwork in the cockpit is a welcome change from the all-fiberglass construction of modern boats, and the strong hull means you never have to worry about running aground or other minor mishaps.
We have a fleet of seven Ensigns which use clean, quiet electric motors to get you off the dock and bring you back if the wind dies. All Ensigns have roller furling jibs and Dutchman self-flaking mains, with all lines in easy reach of the skipper for easy singlehanding. Ensigns are sailed within two nautical miles of the Norwalk Islands, a six mile long chain of nine major islands, and many smaller ones. Our base is in the center of these islands. Most of the islands are nature preserves.
All Daysailers have VHF radios for calling in or for the latest marine weather reports, depth recorders, first aid kits, charts, and all the standard USCG safety equipment.