2022 Summer Program enrollment is open! 
Dories weekly camp programs begin June 20 and run through August 26, 2022. Sign-ups are located below.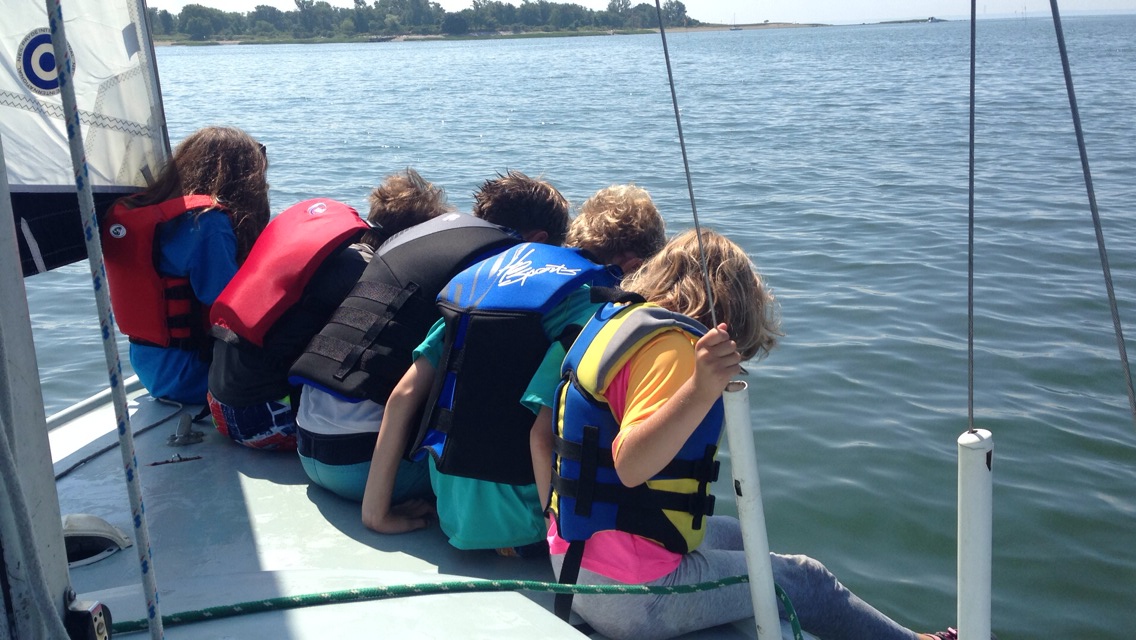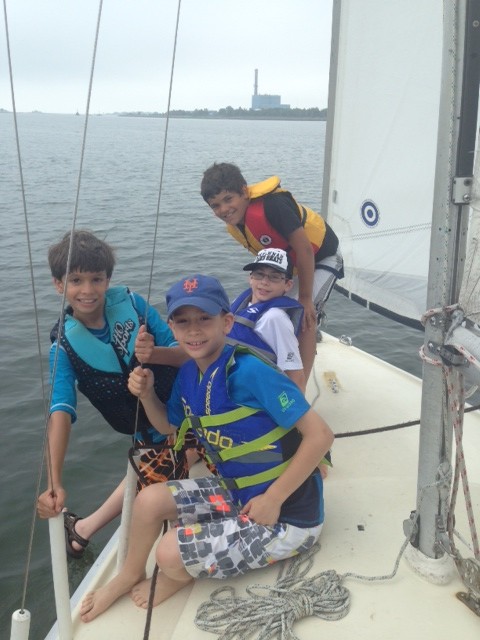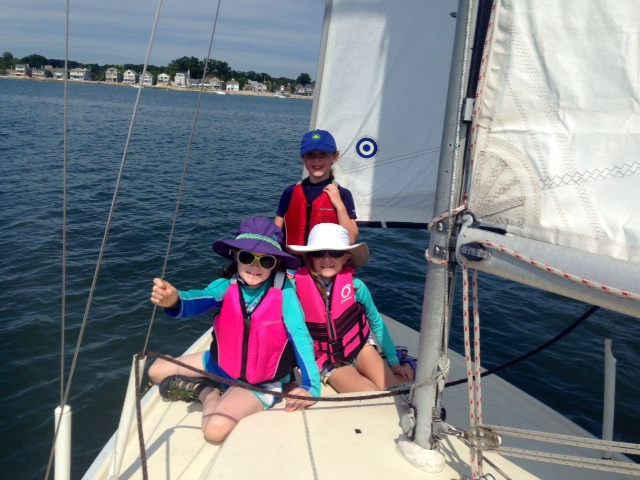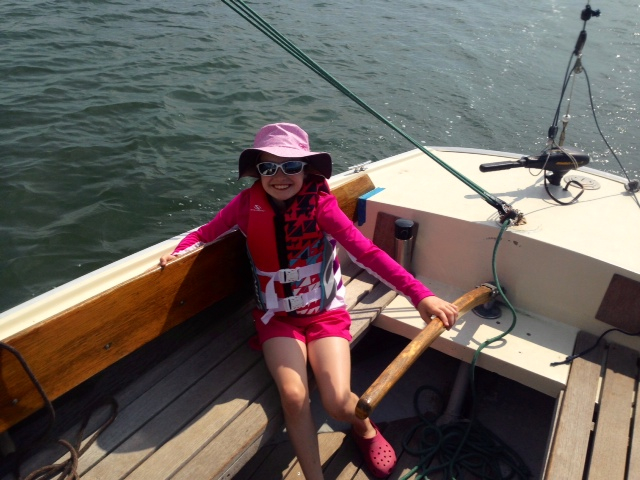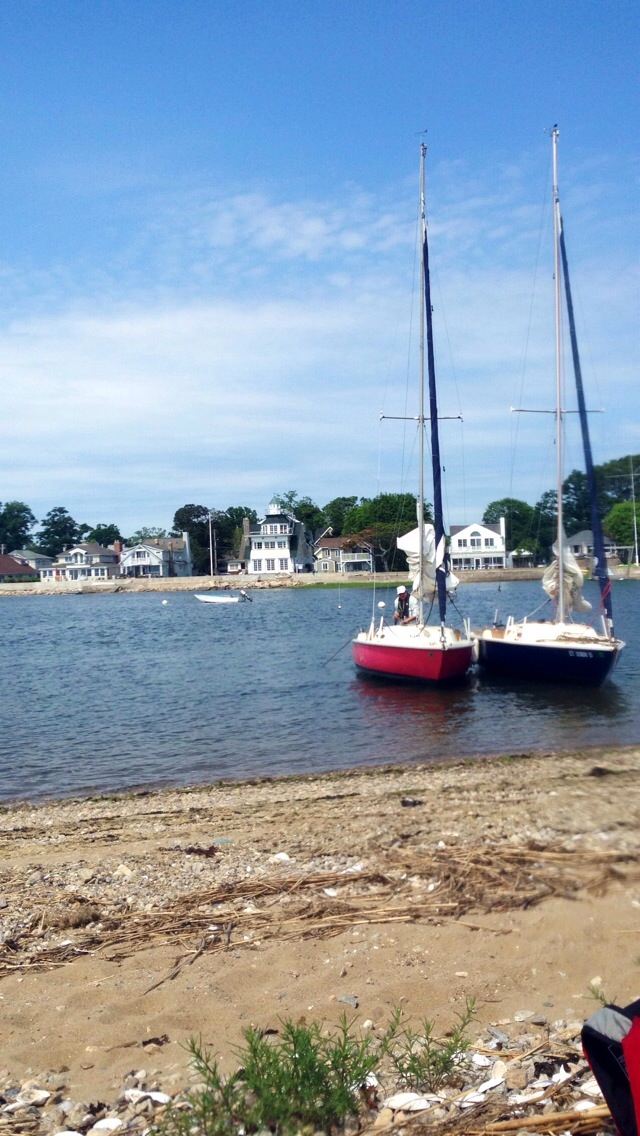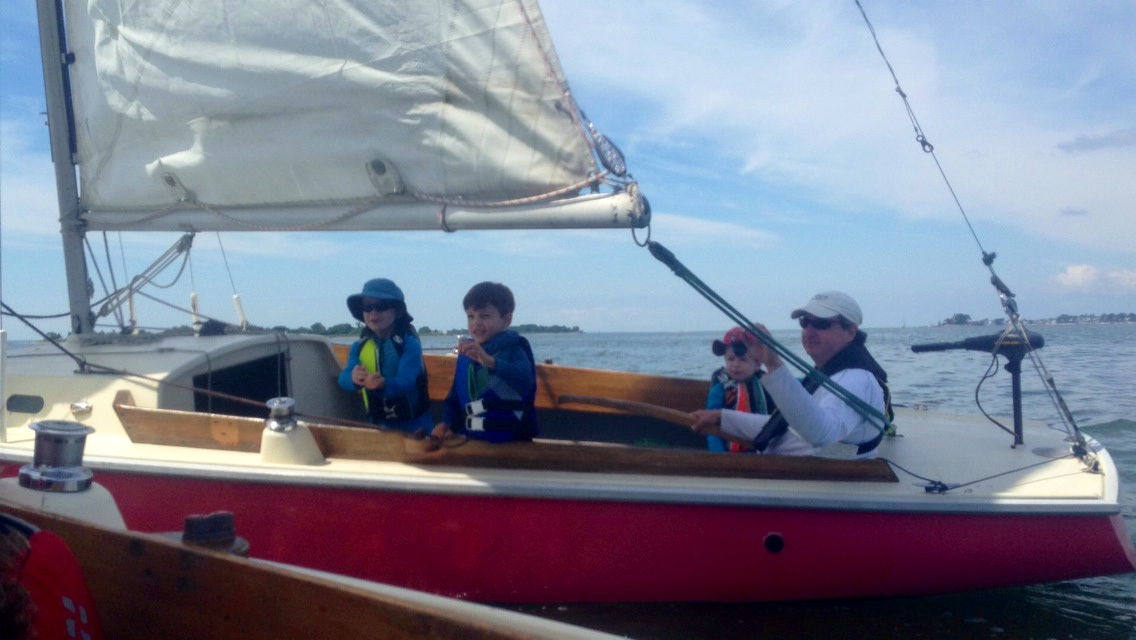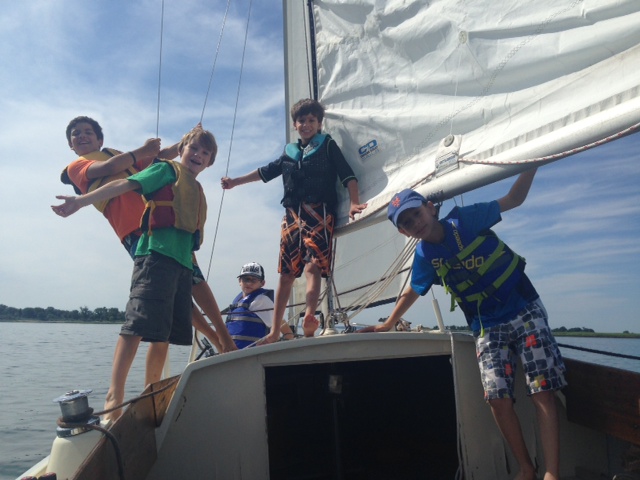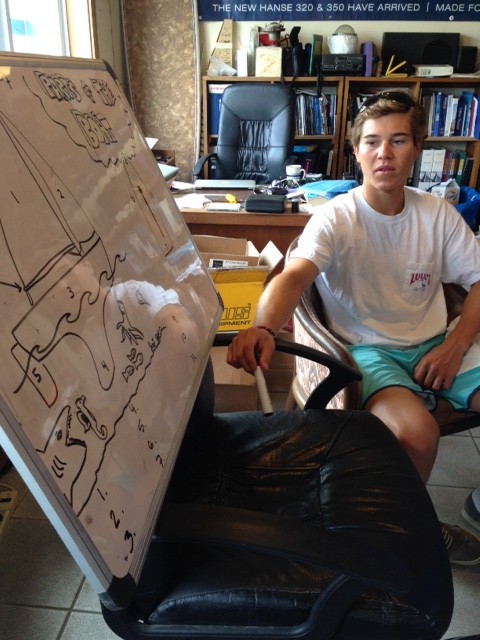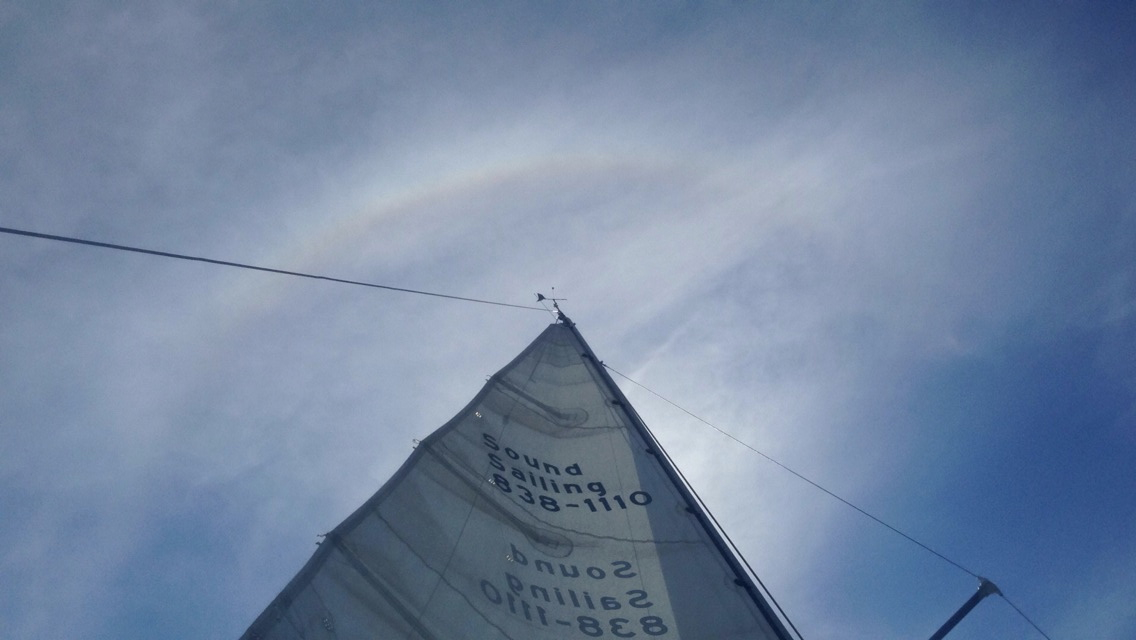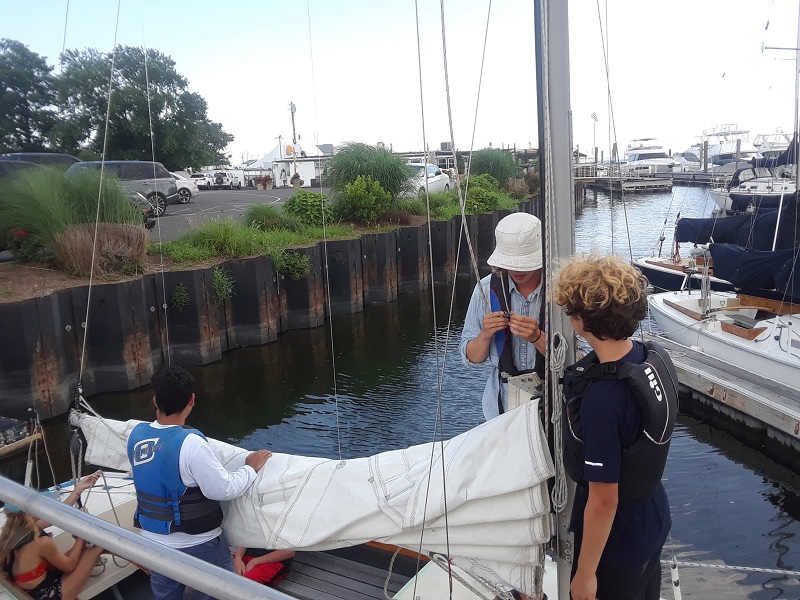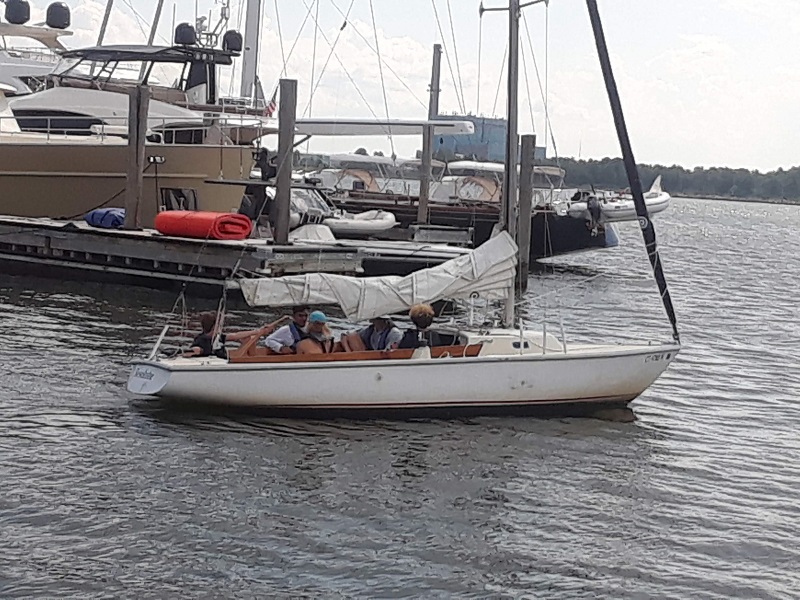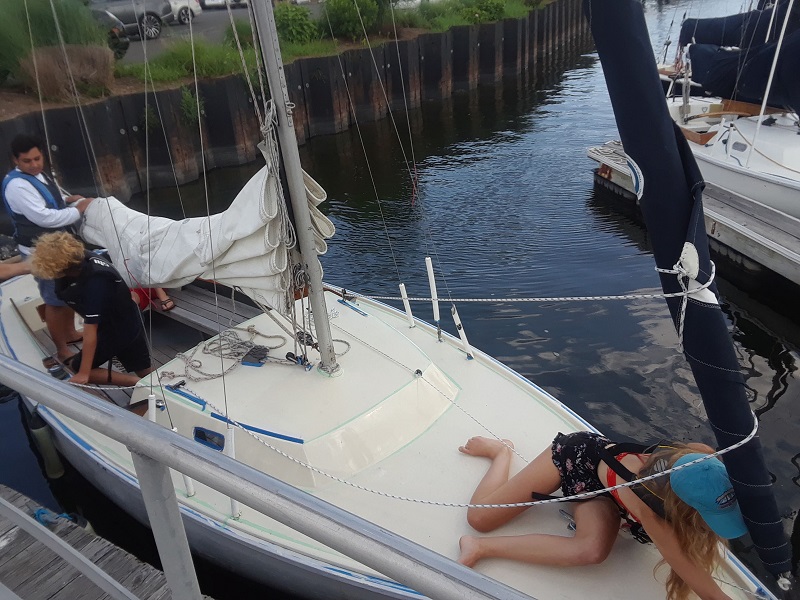 ———————————————————————————————————-
Our goal is to help give children an appreciation of our marine environment and teach them a range of skills such as teamwork, independent boat handling, and navigation.
Classes will be confirmed via an email from Sound Sailing Center.
Dories Camp – Ages 6-13 / Covid 19 Update
Cost $440 traditional program
We offer a 10% discount for multiple children or multiple weeks.($400 per week, per child – e.g. 2 kids for 3 weeks would be $1,200 per child.)
Sound Sailing Center: Dories Junior Sailing Camp Summer 2022 Safety Precautions – we have operated safely the last 2 years and as always will adjust our policies based on the current situation and trends.
Our camp's one week sessions run from June 20st to August 26th. Due to COVID-19, we will be changing certain aspects of the program, based on guidelines placed by the CDC and State of Connecticut.
Note that the latest research shows that the Covid 19 particles are rendered inactive by summer UV light in as little as 30 seconds. Combined with being out in the breeze and the ability to keep kids a reasonable distance (about 6') from each other gives us confidence that we can again operate safely this summer.
On most days other than Friday, we anchor in less than 3' of water close to an Island from about 10:15 to 11am, and the crew will generally swim or wade to the island beach. We use this time to Swim between the boat and the beach, explore the island, identify marine life, catch crabs, and talk about how the islands are formed (the larger Norwalk Islands are Glacial deposits). We have a dingy available for non-swimmers and we often beach the Ensign so we can step off the bow if not good weather for swimming.
Friday as always will be Pirate Day, rain or shine! Costumes / makeup / eye patches are encouraged! If you have a water gun, please bring it, otherwise we will provide water guns. Each boat gets a bucket of fresh water for reloads. The boats sail out to a starting point, then navigate a proscribed course while engaging in a water fight! Normal racing rules apply and boats can 'loose' for not following the rules (basically starboard tack boats and leeward boats have right of way). Targets with buckets underneath on the mainsail is one way we measure how they did (the boat with the least water load is one of the winners), along with the fastest boat, best pirate spirit and best costumes.
Speaking of weather, we generally go out unless steady winds are over 20 knots or gusts are over 24 knots (the Ensign's have very deep reefs in the mainsail, allowing us to reduce to sail area so that in effect, 20 knots of wind has the same effect on the boat as about 12 knots). We also not not go out severe thunderstorm warnings are posted or likely for the morning (typically severe thunderstorms are far more common in the afternoon), a strong cold front is forecast to move through the area between 9 and noon or heavy rain looks likely. We will cancel the activities that day by 7:30 am via email. We can accommodate a limited number of campers under a covered 50' by 20' patio behind our office, for parents who have to work. We will practice knots, pratice throwing ropes, use our microscopes to look at water samples, and play games. Otherwise we can offer a makeup session the following week, typically in the afternoon from 1-4pm.
One of the lessons we are going to teach kids this summer is to have fun while maintaining a healthy separation. Understanding wind direction and how viral particles will move downwind is also on the agenda.
We require your child to stay home if they are showing any signs of Any Illness or has come into contact with anyone who is infected (or if they are running a temperature over 100 degrees or have a Oxygen level under 95%). We will reschedule classes for no charge if you or we have any doubts or concerns about the health of your child.
At the end of the class students will understand basic navigation and sail themselves to Sheffield Island. We will have a contest to see who can identify the most marine species. This course is taught in the mornings from 9:00 am to 12:00 pm, with 15 hours of instruction over 5 days.
Some of the things we cover:
• Biology of estuaries (we use nets to sample marine life)
• Island geology (demonstration of how a glacier works)
• Operating an outboard-powered boat (with a USCG captain on board)
• Parts of the boat
• Wind direction
• Rules of the road
• Basic sailing skills
• Man overboard drills
If you have questions, please email us sscsailing@gmail.com or call (203) 838-1110.
Sign-up for Dories Summer Sailing Camp (Ages 6-13)
If you are enrolling one child for one week the cost is $440. (To purchase an additional week or weeks, or to enroll an additional child, please use the option below.)
If you are enrolling more than one child or signing-up for more than one week, please use the $400 choice below.
Sign-up for Junior Basic Keelboat Program (Ages 14 to 17)
This 6 day program (Week 1: Monday-Thursday / Week 2: Monday-Tuesday) is designed for kids 14-17 who know the basics of sailing and wish to be able to captain an Ensign. The program runs in the afternoon from 1:00pm to 4:00pm, and includes all the skills taught in our Basic Keelboat Adult program. With 18 hours of onboard instruction, after 6 days students will be able to: reef, do MOB drills, perform single-handed tacks and jibes, anchor, read a chart, understand navigation and rules of the road, and much more.
The final two days (Wednesday and Thursday of the second week) are both devoted to practice sessions. The kids will sail the boats themselves, with the instructor monitoring from a distance. Students ages 14 and 15 are not eligible for the US Sailing Basic Keelboat certification but will receive the same level and quality of instruction. Students ages 16 and 17 are eligible for the Certification if they pass the Basic Keelboat written test and two hour checkout.
Students getting certified will undergo a two-hour checkout test sail after their final practice day as well as receive a one-year membership to US Sailing Organization. Before the practice sessions, all students must have read the textbook and passed the US Sailing Basic Keelboat written test. The test will likely be given the Wednesday of the second week, so we ask parents to be aware that additional time may be required after class on that day. We recommend that students acquire their Connecticut safe boating certification prior to the start of the course.
Junior Basic Keelboat Cost $900
PLEASE READ ~ IMPORTANT INFORMATION FOR CAMPERS
1) Click on Dories Checklist – what to bring to camp…
2) Click on Registration Form and Email/PDF the form to sscsailing@gmail.com or bring on the first day.
Download Registration Form here
3) Please read our policy before signing up  Payments, Cancellation and Refund Policy
All students should be able to swim (although there is no swimming in our program) and must own and wear a comfortable, high quality Type 3 lifejacket, preferably made by Extrasport.
Safety is all important. Our facility at Norwalk Cove Marina is in a safe, family-orientated area. Our boats are all unsinkable, with keels to prevent capsizing. Most of our instructors are US Sailing Certified.
Dories Camp: Monday to Friday / 9:00am -12:00pm / Ages 6-13.
Junior Basic Keelboat: 6 Day Program – Week1: Monday to Thursday; Week2: Monday to Tuesday + 2 Practice Sessions / 1:00pm to 4:00pm / Ages 14-17.
We are looking forward to seeing you this Summer 2022!
2021 based Covid Restrictions will be adjusted for 2022 as needed.
A. If local infection rates are over 10/100,000 and/or the positivity rates are over 4%, we will return to limiting the number of kids per boat to 4 unless the 5 person group is put together by the parents. Otherwise, we will have a maximum of 5 kids per boat.
B. Groups will stay together for the week (we normally have 4 boats running). Mixing of groups (we often changed up the groups during the course of the week in the past) will no longer occur.
C. Each group will normally have the same instructor for the week, who will always wear a mask. Occasionally an instructor has an issue that prevents them from finishing a week but substitutions will be as limited as possible.
D. Drops and pickups will not be at the office but down at the boats. Our boats are next to Sunset Grill on R dock. There are marina bathrooms across from the ships store or you can use the head at Sound Sailing Center if needed (bathrooms on boats and at SSC are called heads!). Of course it is preferable to use your home bathroom before you come down. We will have someone available to check kids in at 8:45 and will stay down at the docks to 12:15.
E. We have a digital thermometer and a pulse oximeter and will test everyone on arrival. Kids will first clean their hands w hand sanitizer that SSC will provide upon arrival at the head of the dock. We will also have hand sanitizer on the boats and will resanitize hands at least every hour.
F. After the health check at the ramp, please apply sunscreen if not done already, then walk your child down to their assigned boat. They will be given a position / job by the check in person
G. We can not provide loaner life jackets. Please make sure your child has a comfortable life jacket along with the usual water shoes, comfortable clothing and a fabric mask. Masks must be worn while when on the ramp and dock, when moving about and according to the rules below.
F. Our 23' long Ensigns, for the purposes of the Dories program, will be split into 5 zones. There is the Bow section, Forward cockpit, Mid Cockpit, Helm and Aft cockpit. Note that we never are sailing upwind or downwind. Thus, by keeping about 6 feet of separation between the crew, the risk of a kid catching something from another kid is greatly reduced as the breeze almost instantly moves any viral particles to leeward away from the boat. Even in a light 3 knot breeze, after one second what we breathe out is 4 feet away.
Bow Man (that's what's it's called even though, on racing boats, it's often a women because they are lighter!) – serves as our lookout. If they want to dangle feet in the water their legs must be on either side of the forward shroud. The Bow Man will remove the sailcover in the Morning and the returning bowman will put it back on.
Forward Cockpit – this position handles the halyards, navigates and watches the depth, calling it out every 20-39 seconds or more often if shallow.
Mid Cockpit – this position handles the Jib Sheets. They also handle the spring line and fender.
Helmsman – this boy or girl is steering the boat and does the navigation using the charts. We will wipe down the tiller when we rotate positions
Aft Deck – this kid runs the electric motor when needed, and trims the mainsheet while sailing. The aft deck person uncoils the mainsheet at the start and recoils it at the end.
When we rotate the kids move forward – the mainsheet trimmer / aft deck becomes the helmsman, helmsman moves to the jib, jib trimmer becomes the navigator, navigator moves to the bow, and bow man moves aft to the mainsheet position. Kids must pull up the mask when rotating positions. At other times, IF all parents on the boat allow it, when the kids are more than 6' apart and on station, we will allow the masks to be off.
In this manner, the kids will generally stay 3' apart from each other during the day (which matches the latest CDC guidelines for in school seperation). The instructor will of course move around but will generally stay in the front of the cockpit. The instructor will always wear a mask.
We have not been going indoors at camp, and will make sure our instructors enforce appropriate distancing between campers. To do this more effectively we will have no more than four kids per boat. The groups will not mix over the week and they will have the same instructor all week. Each instructor will also have hand sanitizer and have all of the kids use it in the morning when they get there, and during lunch break. Lastly, face masks will be required at camp this summer.
We require your child to stay home if they are showing any signs of Any Illness or has come into contact with anyone who is infected (or if they are running a temperature over 100 degrees or have a Oxygen level under 95%). We will reschedule classes for no charge if you or we have any doubts or concerns about the health of your child.
:=) SSC Staff