June 27, 2014
Dear Members and Friends,
I left Sound Sailing Center this morning at 4:00 to drive down to the port of Baltimore to receive our new VAr! I am so excited to share these photos of her with you, she is absolutely stunning! We are sailing her up to Norwalk today to R Dock. Here are the first pictures of her.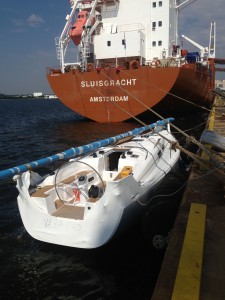 My crew and I had a fabulous trip back from Bermuda. We luckily avoided Hurricane Arthur but enjoyed his winds at our backs. We arrived in Southport Harbor at noon on the 4th of July, where Bermuda High is now safely at her new home.
We are in High Season right now at Sound Sailing Center, happily seeing all of our members sailing the boats, taking advantage of the beautiful weather and the nice winds, so unusual for July. We would ask that everyone please respect the Appointment System and take out the boat that you have signed up for. If there happens to be something wrong with that boat, come to the office and we will work the issue out for you. Please don't just take another boat that is down at the dock, since it may be reserved for another member.
We are thrilled to see that our Camps and Sailing Classes are full as well, happy that our members are interested in and taking the time to learn to sail properly. We are also excited to be hosting the First SSC Full Moon Sail this Saturday, July 12. Members will be able to sign up for the first 20 spots. Please see complete information below.
Happy Sailing!
Martin van Breems
Summer Camp in Full Swing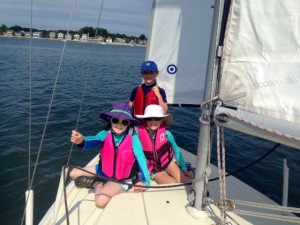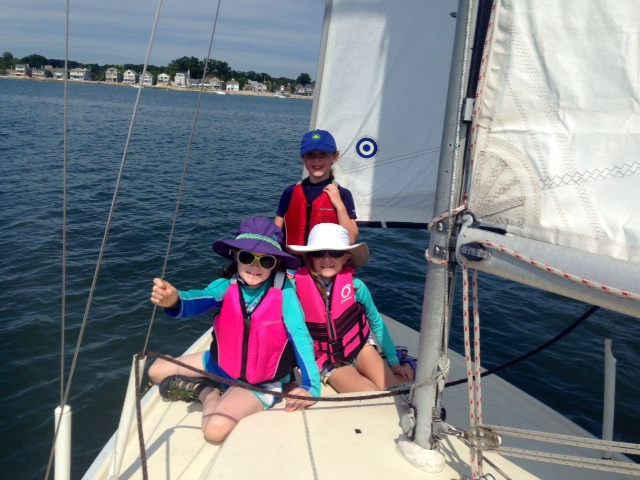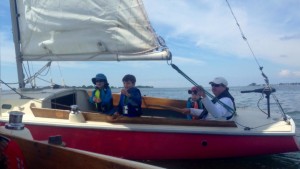 Dories Camp
We had more smiling faces at our Sailing Camp this morning. The kids had a great time out on the water with our new instructor Kelly Weigold. Kelly ran the Nantucket Community Sailing Camp last year and we are lucky to have her teaching our Summer Camp this year. We still have some spots available in future weeks, we even have a camp the last week of August — after most camps have closed – if you'd like to sign your children up.