Fathers Day Open House, come on down, see the fleet and go for a sail – 1-4 pm. Our grill will be fired up with burgers and hot dogs from 1-1:30 pm. Thereafter we will be offering free mini-lessons and sailboat rides with instructors and members. Please call to reserve a sailboat ride in advance.
Why Take Lessons at Sound Sailing Center?
After over 25 years, Sound Sailing Center has a proven record of offering the highest quality instruction. Our program is unique in that we are almost 100% on the water practicing the skills you need. We also believe in lots of repetition until primary skills, like reefing or MOB's are automatic. Each student will have practiced reefing 6-8 times in Basic Keelboat, for example. They also will have observed their 2 classmates doing the same.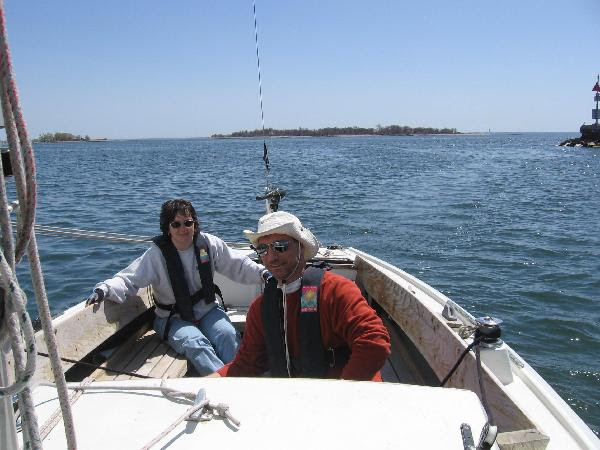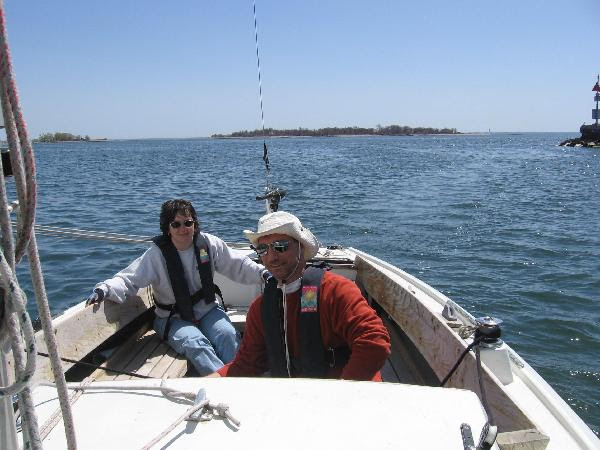 Speaking of classmates, your time is valuable, so we never have more than 3 Students per class. In a 5 hour lesson, you get almost 50% more time on the helm with 3 instead of 4 students (1.5 hours vs 1.1 hour).
Basic Keelboat
Our Basic Keelboat classes also include lots of navigation practice in a harbor with over 25 islands and twice as many shoals that are uncovered at low tide. Big open harbors are not the place to learn to navigate, which the students pictured below are working on in last weekend's Basic Keelboat class.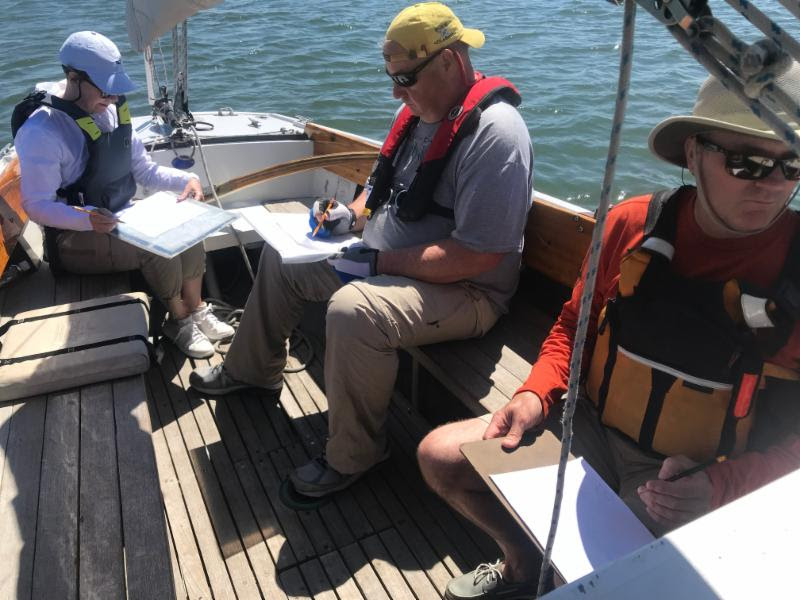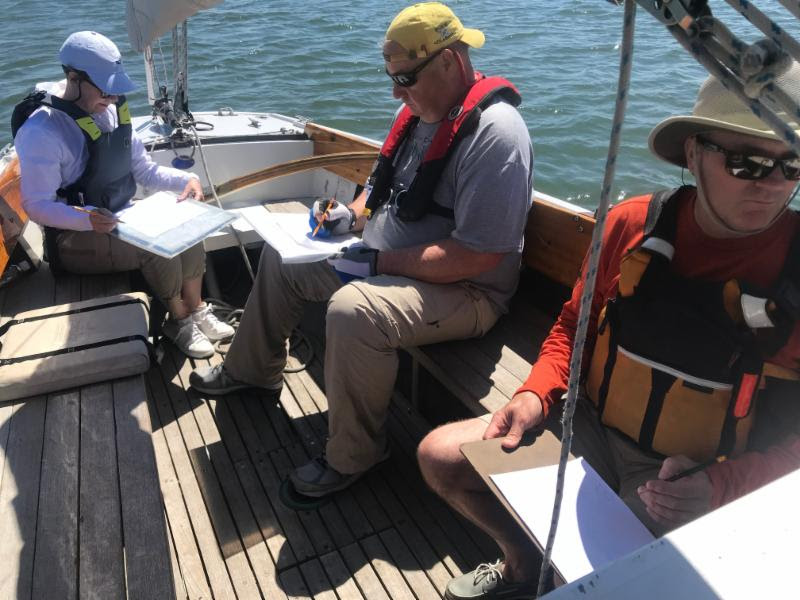 Basic Cruising
In Basic Cruising, each student is the captain for at least 3 passages that takes them out of one area harbor and into another. They have time to practice things like anchoring under sail, picking up a mooring, and our unique MOB technique, as published in Sail Magazine;
Sail Article on MOB rescues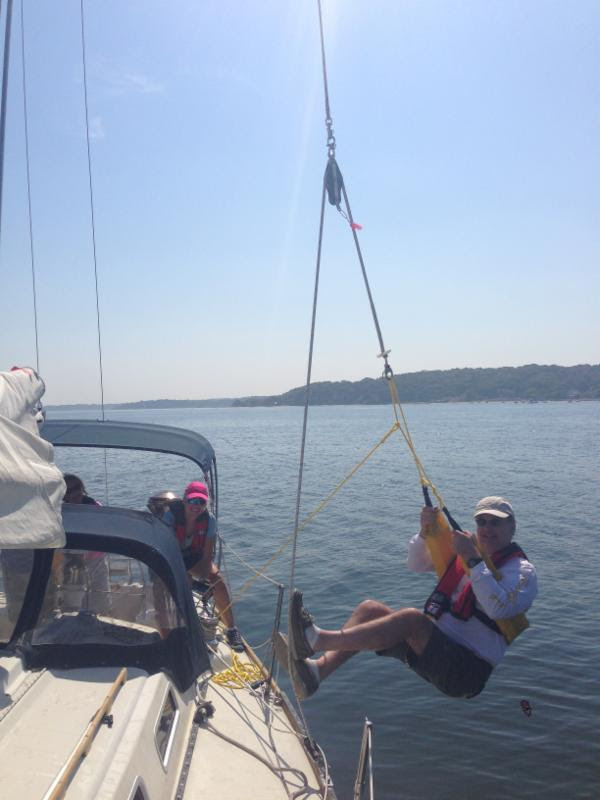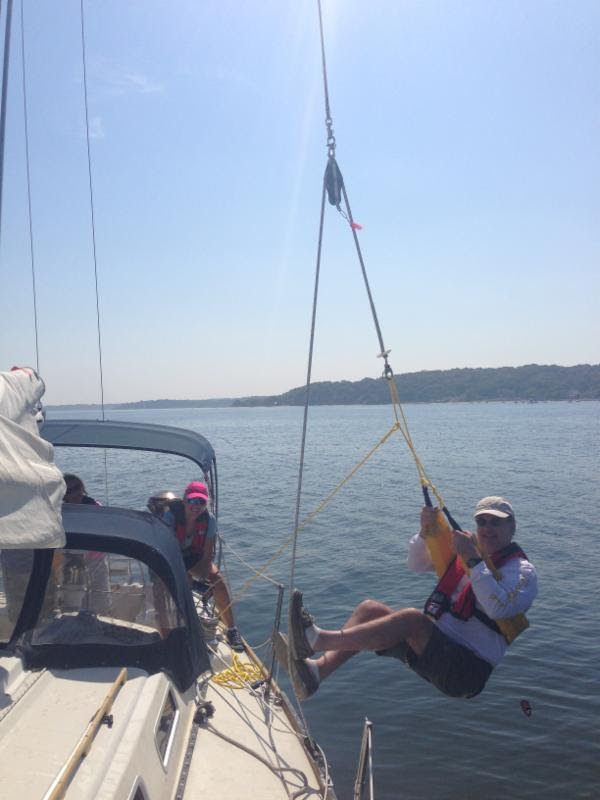 We get many students who have taken courses elsewhere and were not thrilled. Instead of anchoring themselves, for example, they observed someone else doing it one time. That's not how we work!
We asked some recent students for their comments, which you might find interesting;
"Having returned to sailing a few years back, I took SSC's excellent Basic Keelboat as a refresher and to round out gaps in boat handling skills that had been on hiatus for family, career, etc. My ultimate goal, however, was to get back to the big boat sailing I had done in my youth. For that, I took the Basic Cruising class. It was fantastic! Prior to the 3 day on-water practical instruction, the classroom sessions introduced me to: the basics of navigation – plotting courses and handling currents; marine systems – electrical, diesel & water; and endless docking maneuvers (which I'm forever grateful for). 
The 3 days on the water were exceptional. Every student had ample time to captain the boat through all points of sail, navigating passages into tricky coves and several anchoring/mooring exercises. This was all done under the patient guidance of Martin and Wim, two of the most accomplished mariners I've had the opportunity to know.
In all, the Basic Cruising class instilled a degree of confidence that allows me to skipper a larger boat comfortably and enjoyably . If you're considering taking the class – do it, I can't recommend it highly enough. ' – Christian O. June 2019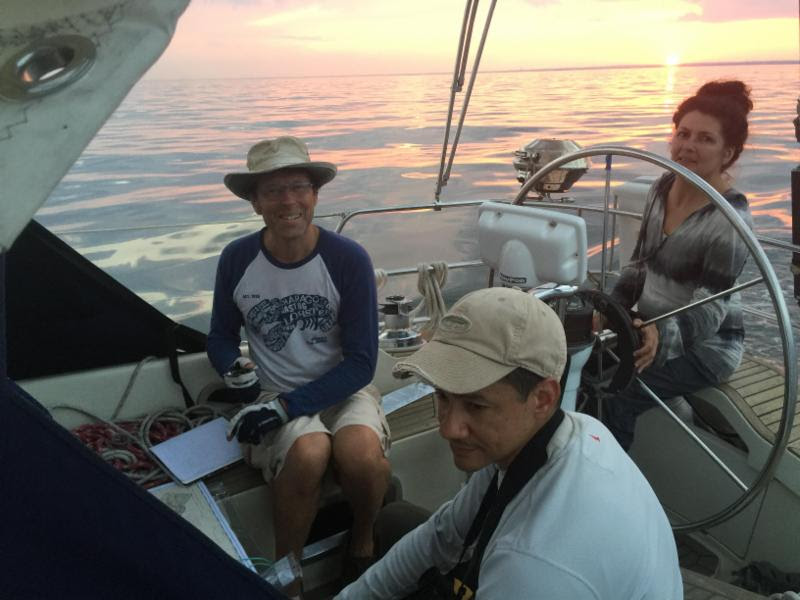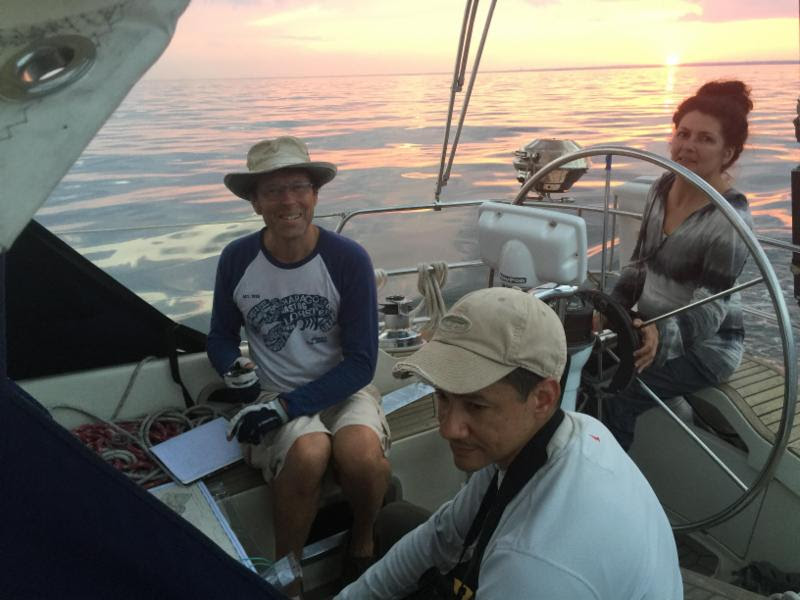 "I had a healthy respect for the difficulty involved in transitioning from daysailing up to larger vessel cruising and was looking for a course that provided rigorous instruction, but in a logical and approachable progression. The course exceeded my expectations on this, as well as the amount of on the water instruction and guided self practice. I have also found the focus on single handed sailing skills especially helpful, and it has enabled me to confidently venture out without feeling dependent on the skillsets of those with me."- Nico Z. June 2019
"As an ensign member, I debated whether the basic cruising course made sense for me. After a year of sailing the local waters and hosting my non-sailing friends and spouse, I knew I wanted more confidence and authority when directing my non-experienced crew. Especially when anchoring for a swim or venturing into the shallower fringes of our sailing area.
Basic cruising gave all that to me and so much more. The instruction in close quarters maneuvering, docking, man overboard on a larger vessel, navigation and plotting a course on a chart was all challenging, always encouraging and absolutely outstanding. The weeknight skills classes taught by Martin and Wim gave plenty of opportunity for questions and ample skills practice for each member of my class. The weekend mini cruise with its students only final phase gave us all the opportunity to test and embed what we had learned.
What I hadn't anticipated was that the class would open the doors wide to lots of adventures that are among my fondest memories. Sound Sailing provided me with the opportunity to sail to Newport and view the Volvo Ocean Race from the best seat in the house, and I was invited as crew for a CPYC 1-week cruise.
I have also helped deliver the Var from Beaufort North Carolina to SSC, which introduced me to my love of offshore sailing. I have since had two amazing passages to and from St Thomas and Bermuda and done deliveries from Old Lyme and Maine. All of these opportunities came about as a product of my Basic Cruising class.
Best of all, even though I am generally an ensign member, having taken Basic Cruising previously made it easy for me to opportunistically switch into a 40ft boat membership. Friends from the UK wanted to spend their summer vacation with us, and my brother wanted to cruise in the Virgin Islands with his family, but if I had needed to find time to do the course during the same summer as changing up the membership, I might not have had the time to do both.
Happily, I was able to make possible two of the best holidays I have ever had with family and friends. So, my advice is, if you have even the tiniest desire to enhance your skills, seize the day and give yourself a mini, learning sailing holiday.; you never know what other benefits will come from it."-Audrey N. June 2019
"This course places a heavy emphasis on practical skills which has given me the confidence to get out on the water on my own. Martin's wealth of experience shines through in a relaxed and patient manner with entertaining stories to illustrate his points. There are plenty of opportunities to practice crucial skills in a controlled environment so one can "learn by doing." The destinations selected by Martin not only improved our docking skills but also showcased several beautiful anchorages and marinas that I fully intend to visit again on my own. The membership program compliments the courses allowing one to build experience and confidence on sturdy, well built boats."-Scott S. June 2019
"Dear Martin,
Your Basic Cruising course was amazing! 5 Stars! I felt at times overwhelmed but certainly learned a ton of things I should know or once did. I couldn't have asked for a better preparation to sail my own Hanse! And sailing back with Pete and Scott was awesome. Couldn't have done it solo. Now it's a matter of keeping the skills practiced. Thank you very much!" -Turhan C. July 2018
Our next Basic Cruising Class is June 21-23rd and will likely be on our Hanse 400 between Norwalk and Mystic CT. For more info, click here;
Basic Cruising
Many people have schedules that preclude out normal weekend classes. Weekday Classes start in late June and women's only classes will also be offered. If you have a special situation, we can and often do structure a program that works for your schedule. We hope to hear from you soon!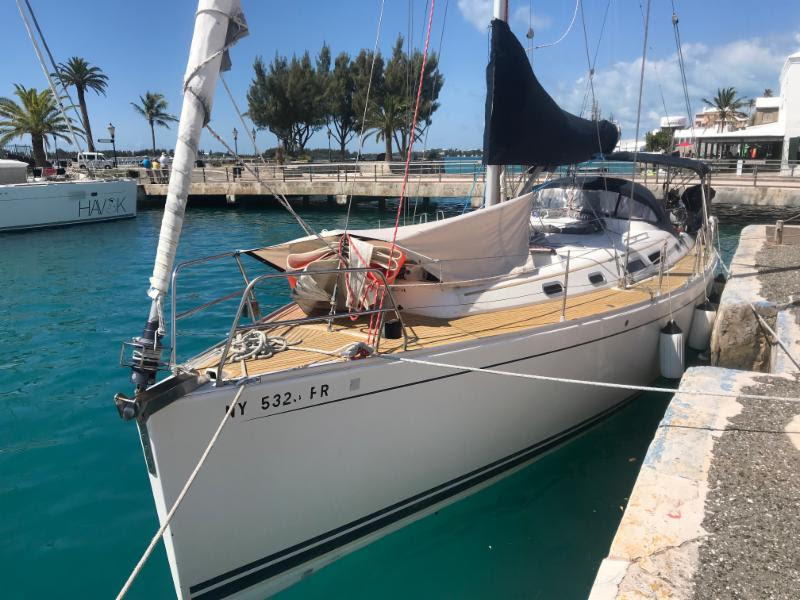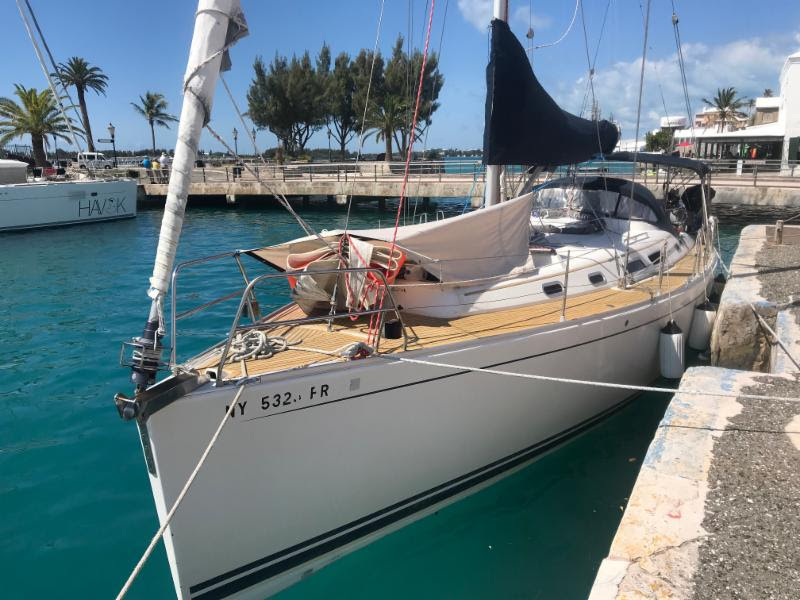 Racing Starts Again on June 20th!
The racing series is open to all! Of course, one design racing is far and away the best way to refine your sailing skills, and learn how small differences in sail trim or steering have a big impact on speed. Plus learning to working together effectively as a team and grow is rewarding in any endeavor.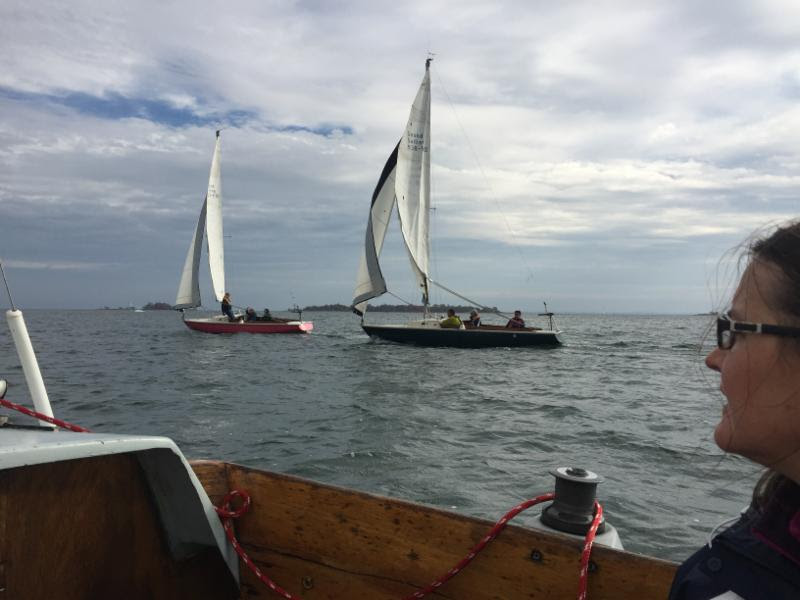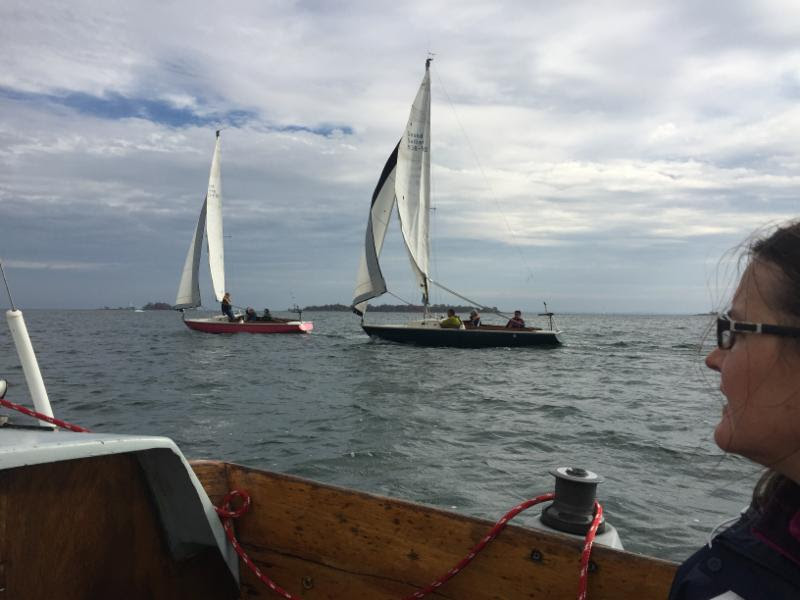 If you wish to steer, you must have completed our Intro to Sailing course. Each boat will have one or 2 captains, who will be SSC members. The SSC members will do the starts and about half the driving upwind and downwind. If you have completed the Intro courses, you will qualify as a helmsman and you can and will do some of the steering as we will rotate through positions. We try to set the courses to get in 4 or more starts, helping you refine your strategy on the line.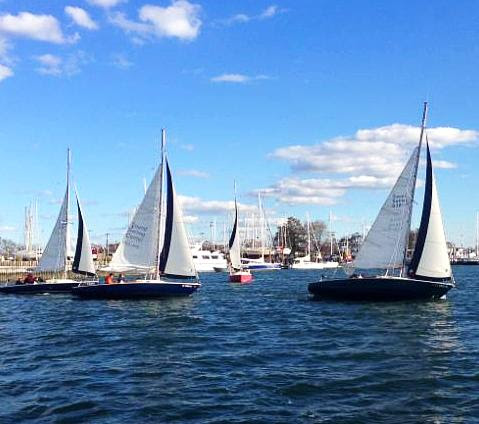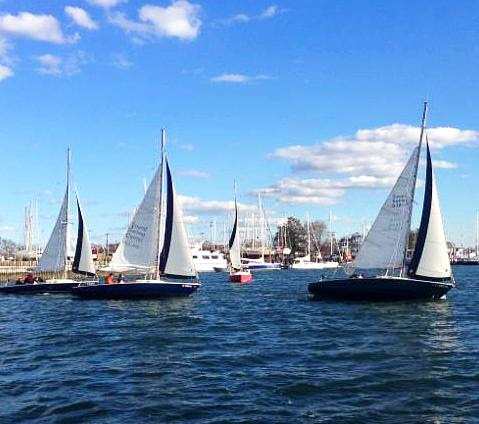 Boats start leaving the dock at 6:00 pm. We have in the past and will continue to offer women's only boats as often as possible, along with singles boat if sufficient interest. Since we race close to the dock, you often can jump on a boat at any point up to the last race. The races will be cancelled if small craft warnings are posted, the winds are over 18 knots, gusts are over 22 knots, or there is moderate to heavy rain or lightning. We normally look at the New Haven and UConn Western Long Island Sound weather stations for wind strengths.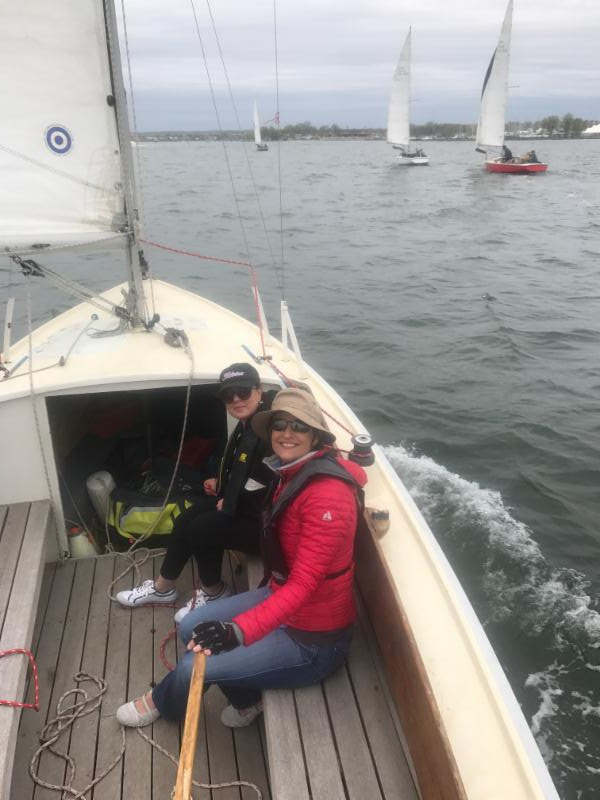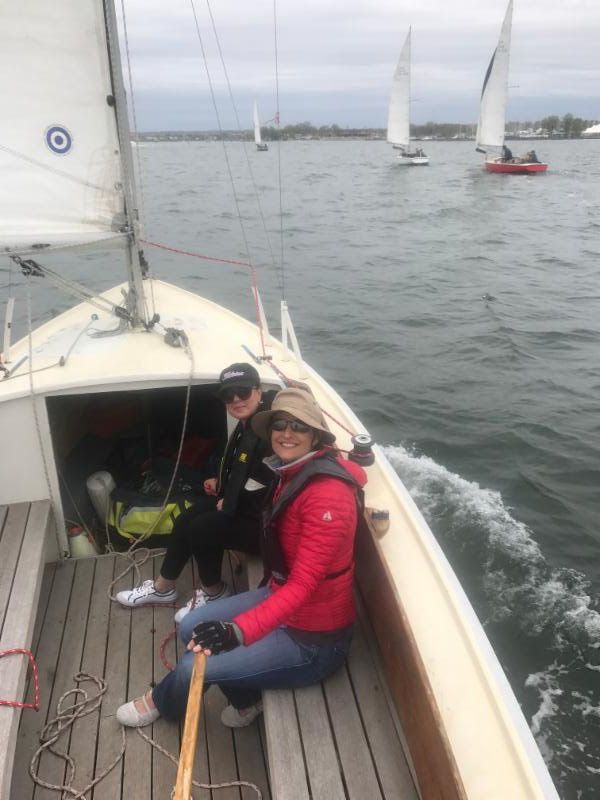 The Thursday evening racing series starts June 20th, and continues for every Thursday till mid-September, for a total of approx. 14 evenings. The cost is $20 per person for non-members, free for members unless you are the Captain (in which case the cost is $20). Members can invite one guest at the member rate (and additional guests at the non-member rate).
Fleet Update!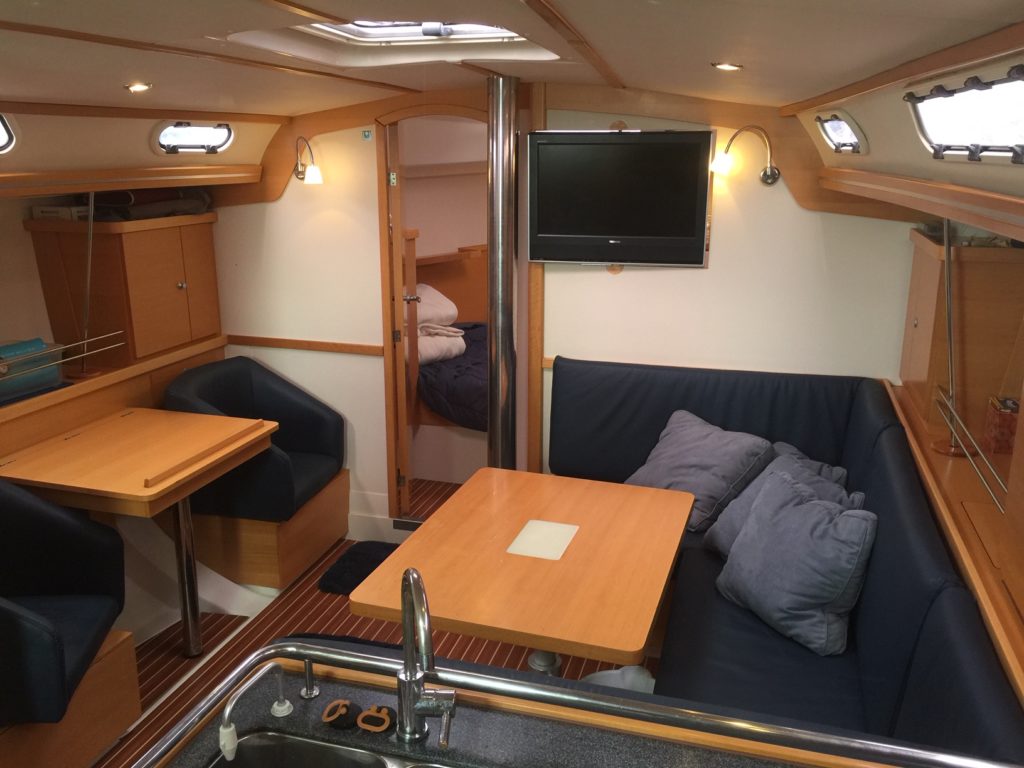 40 Class Our Var 37 is super clean and ready for your adventures in Norwalk. Valanta, our Hanse 400, is still hauled for service, and if needed can be in for this weekend. We are waiting for the new rubrail to arrive. We plan to sail her to Mystic with the Basic Cruising Class next week. The plan is that the Hanse 400 will again head to Maine this summer, although there is a chance we will have the J44 ready instead. We have added lots of gear this week, including new aft cabin ports, LED running lights, etc. Let us know your summer plans and interest asap, especially if you wish to sail in Maine and Northern New England.
35 Class The Sweden 340 has the new upholstery in, along with the new V berth and Mainsalon hatches and has already been out for several days. The Mystic based Contest 36 has been painted and launched and will be ready in about a week.
32 Class The C&C 32 is launched and back in service in Mystic. The next project for her is a rigid bimini with a solar panel. We painted the hull, cleaned the teak, etc and she looks great! In Norwalk, the Pearson 37 is sailing. The CS 30 is hauled presently for service.

27 Class Please contact us if the Bristol 27.7 or any other class is of interest soon! The Bristol 27 is for sale, but can be used in the meantime. Several memberships are almost full.
Ensigns We have installed 4 new mains and 3 new electric motors, several new chargers, and almost all the boats have new bilge pumps. We have also started redoing the varnish, and repainted the interiors so they are looking better than ever!

Calendar
June 16th Open House on Father's Day Please join us Sunday June 16th from 1-4pm. If you are a member, please consider joining us and taking people out for a 45 minute sail.
Every Sat / Sun Passport to Sailing, Intro or Basic Keelboat classes start at 8am and run to 1pm every Saturday and Sunday for the rest of the summer. Our best value is Intro and Basic Keelboat combined ($150 savings) here;
Combined Intro and Basic Keelboat
Keeping our bodies in shape is important, but keeping our minds sharp and in shape is just as important. The process of learning or expanding a new sport like sailing is beneficial not just for the relaxation and excitement that sailing provides, but your brain also experiences significant benefits thanks to the challenge of learning. Sailing and cruising is such a wonderful way to experience the world.
NY Times Article on Learning a New Sport
Basic Cruising Class- June 21-22nd Class The class starts next week with evening Session on June 17th and 19th (flexible). The class runs from 10 am on Friday June 21st to 4 pm Saturday. Students then do a overnight sail to practice what they have learned. This class will run from Norwalk to Mystic CT on the Hanse 400, overnighting in the Thimble Islands, prob the most beautiful spot on the Connecticut Coast! 1 space left!

Wooden Boats Festival / Show – June 28th to 30th One of our favorite events at one of our favorite places, Mystic Seaport, this is a real treat for wooden boat lovers and sailors of all persuasions!

Basic Cruising Class- July 12th-14th Class The class starts next week with evening Session on July 8th and 10th (flexible). The class runs from 10 am on Friday June 21st to 4 pm Saturday. Students then do a overnight sail to practice what they have learned. This class will run from Norwalk to Stamford to Eatons Neck / Huntington LI and then back to Norwalk.

Advanced Cruising Class – July 21-26th Class The class starts with an afternoon Session on Sunday July 21st from Noon to 5 pm. The underway portion starts at 10 am Monday in Norwalk CT and ends up in Rockland, Maine on Friday, July 26th, and covers the entire coastline with an overnight passage from Cape Cod to Maine. 2 spaces left!
Again this year we will be sailing our Hanse 400 Valanta up north. If you are interested in our Advanced Class up to Maine, (Sunday July 21 to Friday July 26th) please let us know soon! (update: This class is full.)
Several members enjoyed Maine Cruising so much they have asked to do this again. Valanta has been reserved by members in Maine up to August 19th, when she is available for pickup in Rockland ME. Typically she is south of Cape Cod by early Sept.