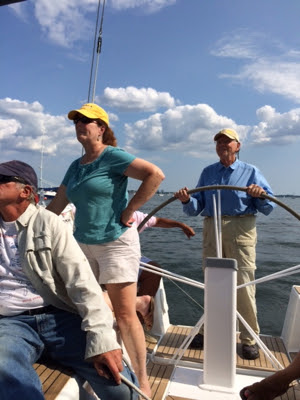 Dear Members and Friends,
The Open House hosted by Harlem Yacht Club on Sunday, August 10th was a wonderful success. We had 40 Members from both Clubs sharing delicious wine and snacks, as well as sailing on the VAr with me. Harlem Yacht Club is a fabulous facility, with great sailing and, as you can see from the photos, and amazing view of the syline of New York City.  I am thrilled that SSC Members have already been taking advantage of our Ensign "Intrepid" that we have moored there to discover this new sailing vista. Visit 
www.hyc.org
 for more information on this storied yacht club.
Due to Popular Demand, Teddie has created an "SSC Members Board" on the SSC website. We are listing members who are looking for other members to sail with or looking for crew. Please contact Teddie for more information and to get your contact information listed.
Have you been putting off taking our Basic Cruising Course? Well, now is the time to sign up! We have 2 unique opportunities coming up to get your Basic Cruising Certification. I am sailing the VAr to the Newport Boat Show on 
September 5th
 and am conducting a Basic Cruising Class in conjunction with that sail. We depart the morning of 
Friday, September 5th
 and follow the curriculum of our Basic Cruising Course throughout the trip. On Saturday evening the lucky students will get to sail the VAr to Block Island for their Practice Sail/Overnight. We will arrive in Newport by late Sunday afternoon. We have 1 spot left in that class for the first person to sign up online at our Website 
www.soundsailingcenter.com.
Then I will be sailing the VAr down to the Annapolis Boat Show on 
Friday, October 3rd
 during which I will again follow the curriculum of our Basic Cruising Course on that trip. We will arrive in Annapolis late Sunday afternoon. You can sign up for that Basic Cruising Course online as well. These trips are some of our Members' favorite memories of Sound Sailing Center.
Our classes are filling up for the rest of the season as well. If you would like to improve your sailing skills to prepare for a Winter Charter Cruise in the Islands or get your spouse into a class to find her passion for sailing (and to help you crew) – sign up on our website at "Instruction". Teddie has also been scheduling weekday classes for all levels, if you would like to take a "sailcation" from work this Summer, please contact her.
We really appreciate the efforts of our Members in following the procedures to sign up for their boats on our online appointment system, as well as taking the boats they are assigned and not taking another boat from the dock. Many Thanks!!
The Dories Camp was a huge success this Summer! We have never had so many young sailors at SSC and we are excited to start planning next Summer's Curriculum as this season comes to a close for our Junior Dories.
Happy Sailing!
Martin van Breems
Summer Sailing Camp Draws to a Close this Week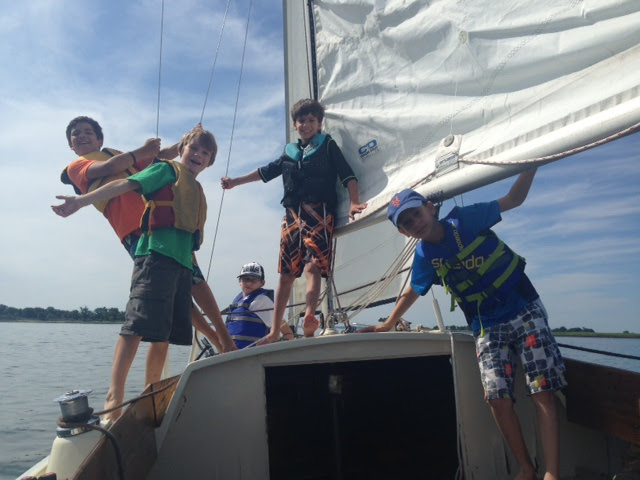 Dories Camp 
We would like to thank all of our Junior Sailors as well as our fabulous Instructors this Summer, Kelly Weigold, Peter Nestor, Kat Nohre, Martin van Breems II and Richard Roosen. We had an amazing Summer of happy, smiling, wet and salty Junior Sailors all Summer and can't wait to see everyone again next Summer! Please enjoy these pictures of the kids having fun on our Ensigns.