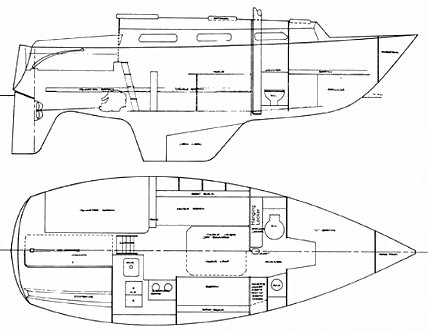 One Weekday  $426
One Saturday, Sunday or Holiday  $623
One Week Charter $1,738
To book or inquire about chartering a Sabre, please email us at sscsailing@gmail.com or call  203.838.1110.
Bristol 27.7
As a step up from our daysailers, we wanted a safe, comfortable introduction into larger cruising yachts.  Our primary interest is a boat that offers good, predictable performance. Sailboats should be fun and rewarding to sail.  A well-mannered yacht means a yacht that does not round up in an uncontrolled way in a puff. It allows for a light, easily controlled helm.   A good yacht will take care of you, even if you make a mistake.
Build quality is also very important.   Bristol has often been compared to Hinckley Yachts, the highest quality US yacht builder. In many ways Bristol and Hinckley Yachts are similar, even down to the high quality varnished mahogany woodwork and glassed in bulkheads for structural rigidity.   I have always been impressed with how well Bristol Yachts stand the test of time. When showing yachts to brokerage customers, they are one of the brands I often show.  A beautiful, high quality interior is also makes spending time on board that much more pleasant.
Ease of sailing and single-handing are very important.  Even if you will be sailing with lots of friends, it's often easier and more pleasurable for all involved if a yacht is easy to single-hand.  For that reason, as on all our yachts from our 23′ Ensigns and up, we run the reef lines and main halyard to the cockpit and add with a low friction mainsail track system and a Dutchman flaking system (which we manufacture here in Norwalk).  We also use a roller furling jib, so single-handing is super easy.
We expect to eventually use electric inboard motors on the boats in this fleet. This is due to the low maintenance costs and super high reliability.  Of course, we will continue to use the existing diesel engine for as long as possible.
Finding a quality smaller sailing yacht we are sure our members will enjoy, even if conditions become difficult, and is affordable to maintain, is a challenge, and we are sure you will enjoy the results of our efforts.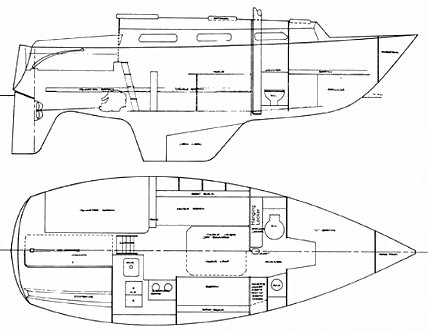 Reviews
Jack Horner did a nice review of the Bristol 27.7 sister ship, the Bristol 35.5 for Spinsheet and Boats US.  We have copied most of it below, and added comments in parenthesis where appropriate.
"No doubt owning a boat of any size is a luxury. This may be the reason some boat buyers arbitrarily assume all boats are designed and built to a level of quality that meets their own luxury standard. On the other hand, most consumers don't expect the same level of quality of construction from a Chevrolet as they do from a Ferrari. For this reason, when discussing boats with clients, I have, on more than one occasion, made various analogies between boats and automobiles and, tacky or not, I'm about to do it again."
"Bristol Boat Company, of Bristol, RI, builds Lincolns… Let's take a look at the comparisons; it's conservative in design, a little on the heavy side, offers smooth steady performance though not at break-neck speeds, and when you close a door you're left with a comfortable feeling of a solid, well-built product. Last but not least, it's expensive although not ridiculously overpriced."
"This is a solidly built boat, and the lay-up schedule is substantial. Bristol has never made extensive use of fiberglass hull liners as a structural component, opting instead for a more traditional use of wood structural components. Full and partial bulkheads as well as other athwart ship and longitudinal members are bonded to the hull with fiberglass and resin. Secondary bonding is almost always flawless, and it is rare to find any significant structural problems with these boats. "
"Despite her rather hefty displacement/length ratio and moderate sail area/displacement number, performance under sail of the 35.5 (and 27.7) is quite good. The boat has a very respectable speed on all points of sail, she points well and is considerably faster than most boats of this displacement and length in light air conditions."