Sailing is a gift—both deeply appreciated and long remembered. Make a difference that will last.
Sound Sailing Center offers a variety of sailing program options for teams and organizations. All programs are tailored to your individual requirements.  From a leisurely cruise to Sheffield Island for a farm to table Catered Luncheon….
…to a Team Racing Event…
Entertain Clients
Take your clients for a sail with us on a VAr 37′ yacht, a unique and memorable venue for entertaining while sharing a common bond in the grand setting of Long Island Sound. Get out of your usual setting and enjoy the freedom of being propelled by the wind. Your clients will appreciate the exhilarating and enriching experience you've arranged for them.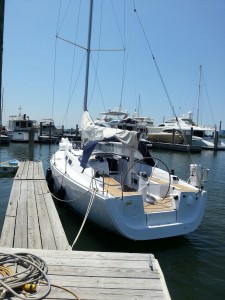 Reward Your Team
Make your next meeting, fun, exhilarating and memorable. Incorporate sailing into your sales meeting, awards dinner or any company gathering. You can choose from a fleet of fine yachts to experience the beauty of Long Island Sound.
Bring your team closer together in a setting where people naturally let go, speak and laugh freely, while they enjoy being with their colleagues on an adventure. Individuals may either choose to help sail under the captain's supervision, or relax, talk among themselves and enjoy the wind and the ride.
Available Venues
Let us sail you from our Norwalk facility your team to or from a waterfront restaurant of your choice or a Norwalk Island of your choice for a catered luncheon or cocktail party. Groups can, for example, sail from our Norwalk facility to any waterfront restaurant in the area, arriving at their dinner site via sail.
Following a local evening sail, choose a cookout or gourmet catering at our facility or a private dinner at the Sunset Grill which is adjacent to our facility.
Select a tailored program from our flotilla of yachts, and sail the time and distance that meets your needs.
Breakthrough Team Performance
A one-day team-development workshop on the water.
The SSC teambuilding process is so much more than a nice softball game that didn't make any difference back at work. It is an out-of-the-box experiential challenge characterized by accelerated and memorable learning! Each team must find its way to optimum performance, and our sailing discovery process is proven to nurture and accelerate that process. Teams must continually communicate and adjust to reach optimum processes and achieve goals. Possibly no other activity demands such a high level of coordination, adaptability, attention to feedback, and team spirit to succeed.
We will work with you in a needs assessment process to identify and understand core cultural messages that you are striving to embed back at work. We will help you embed them during the experience of the day. The debrief back at the clubhouse is both a celebration of our day and a time to reinforce these core messages. Past teams have demonstrated dramatic and practical performance improvements in the following areas:
Multiple individual insights from a peak experience of team performance.
new level of role adaptability
expanded personal and team perceived limits
improved morale and resolved conflicts
comfort in the face of pressure, complexity and ambiguity
breakthroughs in communication
spirit of camaraderie and friendship
willingness to step in and do what it takes to produce the results
Our morning begins with a short "classroom" introduction and gearing up. Then we are divided into teams of four, each with a professional instructor and a 23-foot Pearson Ensign sloop. On the water we begin learning the skills, communication and teamwork necessary to maneuver the yacht skillfully. We take turns learning the various positions and roles: vessel command, steering, control of the mainsail, the jib, and tactician.
Following a group lunch we return to the excitement of match racing. The teams take their skills and engage in "round the buoys" competitive racing. Additionally they may be presented with other objectives.
Participants return to the clubhouse for awards, celebration and debrief. We offer supportive feedback, and facilitate a debrief on what you learned, and what you can take back to work. Dinner is a preferred option.
Your team will depart having had a day full of excitement, fun, inspiration and learning.
Breakthrough Leadership
An overnight two-day executive/team-development workshop on the water.
Big boat sailing and racing provides the opportunity to push beyond the boundaries of what's "normal" and operate in the "extraordinary" zone. Developing optimum speed on the water and executing winning strategies helps expand thinking, generate innovation and develop new communication patterns that lead to breakthroughs in performance back at work.
This is more than an exciting day on the water; it is an intense executive leadership workshop testing and pushing the boundaries of perceived limitations and opportunities. In the morning the team is introduced to a unique "ensemble leadership" model and challenged to experiment and implement its principles on the water. The team then sets sail on a J-44 racing yacht. Participants learn the various roles essential for safe operation and hone performance throughout the day. We anchor overnight in a gunkhole,a solitary little anchorage, enjoy a dinner onboard and continue the quest in evening conversation. We continue our sailing the following morning and return to the clubhouse mid-day to celebrate our wins and to embed elements of ensemble leadership. The team departs richly rewarded for their efforts, knowing the love and lore of the sea, inspired with new potential, and personally renewed in inexplicable ways.
At SSC you will quickly find that we are not just outfitters offering sailing. We have in-depth corporate and O.D. experience, and we understand the process of transforming fragile insights born from a sailing experience into gains in team and cultural performance.
Please contact us at sscsailing@gmail.com or call 203.838.1110 to begin planning your unique Corporate Event