Ocean Sailing: Experience a truly amazing and challenging journey which will give you a sound introduction to life at sea.
Christmas Walkabout, St. George, Bermuda pictured above. 
We are planning our Ocean Sailing Class this year on Bermuda High. Do you have any interest in joining us?
We will meet on Saturday, November 23, 2013, from 9 am – 3 pm to review weather, the boat and likely head out to practice reefing and man over board drills. Bring appropriate sailing gear and your lunch.
SCHEDULE
Sunday, December 1, 2013 Earliest departure date. A delay of up to three days for a good weather window is common. We will spend two hours storing gear and reviewing the boat before heading out around noon.
Thursday December 5, 2013 Earliest arrival in Bermuda.
Friday, December 6, 2013 Likely arrival in Bermuda. Second leg of the crew should arrive. Of course, we will have a very good idea if we will be leaving December 1, 2013 by November 28, 2013, allowing you a one week advance to purchase your airline tickets. An incentive to arrive by Friday evening is the amazing party in St. George, Bermuda from 6 – 8 pm, with many events which  include some of Bermuda's finest homes welcoming you and serving all sorts of delicious fare! For more information: St. Georges Christmas Walkabout
Saturday, December 7, 2013 Earliest departure from Bermuda.
Sunday, December 8, 2013 Likely departure Bermuda.
Saturday December 14, 2013 Likely arrival in St Thomas. We normally spend the first night upon landfall moored off Caneel Bay, one of St. John's loveliest resorts, and have breakfast there in the morning. A well deserved treat!
Click for more details soundsailingcenter.com/ocean-sailing
A Gift Worth Giving this Holiday Season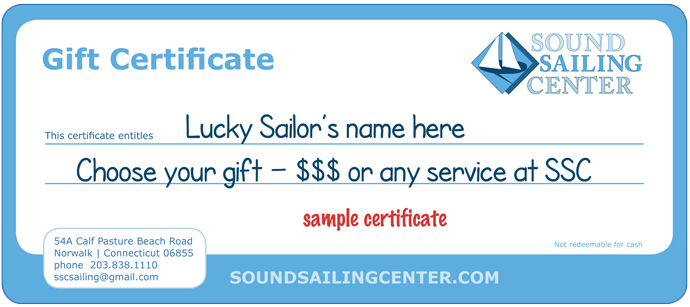 Show your love or appreciation this Holiday Season with a Sound Sailing Center Gift Certificate. Purchase a class, membership or simply give a dollar amount to use at SSC. Call 203-838-1110 or email sscsailing@gmail.com for your gift certificate.
Bareboat Caribbean Class: Cover everything you will need to know to successfully charter a yacht in the Caribbean
Are you interested in doing some bareboat chartering and experiencing a variety of the Caribbean Islands? If so, consider our Bareboat Class. This class will make you comfortable at chartering in the Islands.We are setting up our next Caribbean Bareboat Class. Please email sscsailing@gmail.com to reserve your spot. soundsailingcenter.com/bareboat
St. Thomas Rolex Regatta:  Competition, Camaraderie and Trade Wind Breezes
Call 203-838-1110 or email sscsailng@gmail.com to reserve your spot as crew member on Bermuda High at 2014 Annual St. Thomas International Rolex Regatta. March 27 – March 30, 2014. www.rolexcupregatta.com